Missy
01-10-1998 ∼ 01-10-2014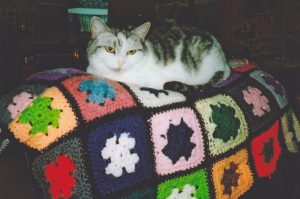 Missy, my lovely girl, was with me for 14 wonderful years, we moved from Riwaka to Motueka and she settled in well. We clicked at once, we found each other at the SPCA when she was 14 months old and had a litter of kitten. She was a very special cat, she loved her home comforts – a homely cat, treasured companion and loved by everyone.
We spoiled her dreadfully and she really lapped it up and gave us much pleasure and love in return. Missy had a really soft lovely purr. She loved to hop on my knee whenever I sat down.
She loved cuddles but she wanted cuddles on her terms, she was not keen on being picked up. Missy was mistress of the house, she varied her favourite places where she liked to sit, she particularly liked the armchair and the conservatory. She was always there to greet me when I came home.
Her favorite toy was a ball of wool she had for 10 years, after I had retired for the night she would be playing with the ball. Later she would curl up on my bed.
V Bradley, Motueka