Harvey Edward Mackenzie-Howe
01-04-1999 ∼ 18-06-2014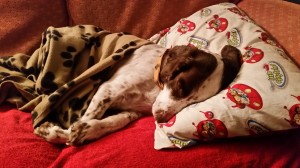 Harvey emigrated to New Zealand with us from the UK 7 years ago as we couldn't leave him. He has been the most beautiful, loyal, naughty, mischievous little man and at the ripe old age of 15 years, 1 month and 17 days he is still not out of his probationary period!
Harvey was born April 1st – April fools day and the warning signs were already there! He has so many nicknames – none of which he has ever answered to, but our favorite is Hammy. He has had a wonderful life especially since we moved here to NZ and has run thousands of kilometers up the Barnicoat Hills, which is where we will scatter his ashes.
Harvey enjoyed his creature comforts, he wore his orange bandanna (referred to as his jammies/pjs), his brown smelly bed called his "nut", (he also has a couch and now we may get a chance to sit on it), his warm brown blanket with paw prints and his name embroidered on the corner, his friend Snake who was our draught excluder with which he loved to play and they would often be found in the garden, and lastly his Einstein's pillow which as he got older he loved to lay his head on.
Mummy sends her love and remembers well her little soldier.
Rest in peace my beautiful boy and thank you for sharing your life with us.